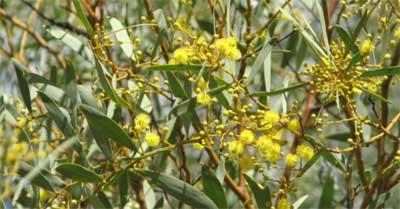 Acacia jennerae
Family: Fabaceae
Attractive small tree growing 3 to 4m in height with drooping foliage and blue-green phyllodes (modified leaves). Often multi-stemmed from the base.
The perfumed flowers are bright yellow and ball shaped and appear in April to June. Each flower head is actually comprised of 36 tiny flowers. The pods which follow are 10 to 20cm long and contain large black seeds. These seeds germinate readily after soaking in boiling water. The seeds also attract parrots such as ringnecks and galahs.
The tree has distinctive reddish-brown bark. It is an excellent choice as a small shade tree on a suburban block.
Named after the town of Coonavittra in New South Wales.
Where to find this plant at Alice Springs Desert Park
This beautiful tree is currently flowering in the Desert Rivers habitat around and inside the walk-through aviary.
Source:
http://bie.ala.org.au/species/Acacia+jennerae
Cunningham, G. M. et al., 1981. Plants of Western New South Wales, NSW Government Printing Office