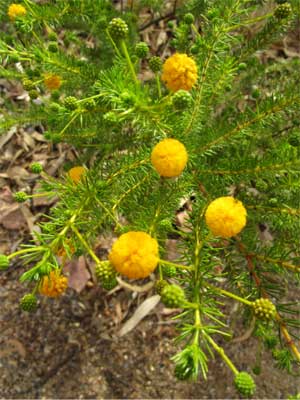 Acacia spondylophylla
Family: Fabaceae
Low spreading shrub growing 0.5 to 1m high with sticky stems and leaves. The phyllodes (modified leaves) have a pointed tip and a curry like smell when crushed. The bright yellow, round flowers appear in June and July.
The flowers are followed by a brown, sticky pod containing the seeds.
This plant grows in shallow sandy or stony soil, often on roadsides. It is quite common along the Stuart Highway around Barrow Creek.
Where to find this plant at Alice Springs Desert Park
This interesting shrub is flowering near the visitor centre in the Desert Rivers habitat.
Source:
Latz, P., 2004. Bushfires and Bushtucker, IAD Press, Alice Springs
Moore, P., 2005. A Guide to Plants of Inland Australia, Reed New Holland, Sydney
Purdie, J., Materne, C & Bubb, A., A field guide to Plants of the Barkly Region
http://bie.ala.org.au/species/Acacia+spondylophylla