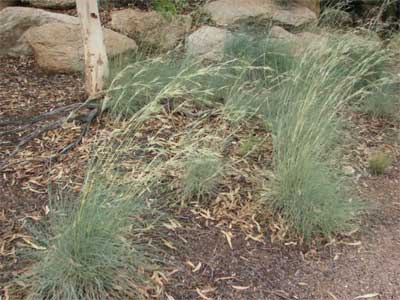 Cymbopogon ambiguus
Family: Poaceae
Clumping perennial grass growing to 1m in height with blue-green leaves which smell strongly of lemon when crushed.
The fluffy seed heads appear well above the leaves, usually in the warmer months.
Grows in watercourses and a wider leaf form is found on rocky hills. Very widespread, occurring in all mainland states and territories.
Important medicinal plant for local Aboriginal people - usually used for chest complaints and colds. It was inhaled, used as a chest rub or steeped in water and drunk.
Where to find this plant at Alice Springs Desert Park
This pretty grass can be found in the visitor centre courtyard and throughout the Desert Rivers habitat.
Source:
Latz, P., 1996. Bushfires and Bushtucker, IAD Press, Alice Springs