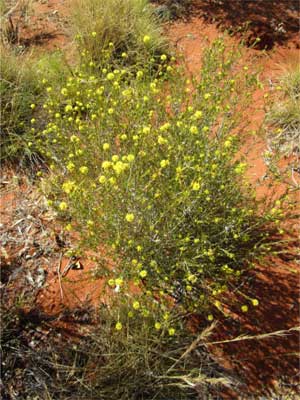 Melaleuca dissitiflora
Family: Myrtaceae
Bushy shrub which grows to 3m tall. It has grey papery bark and narrow, pointed leaves. The flowers are creamy white, fragrant and rounded.
A pretty, fast growing tree, it is listed on the Alice Springs Town Council's native plant database.
Small populations of this plant can be found in the Northern Territory, South Australia, Western Australia and Queensland.
Where to find this plant at Alice Springs Desert Park
Young plants of this species are located in the Sand Country habitat.
Source:
Moore, P., 2005. A Guide to Plants of Inland Australia, Reed New Holland, Sydney
Urban, A., 2001. Wildflowers and Plants of Inland Australia, Paul Fitzsimons, Alice Springs