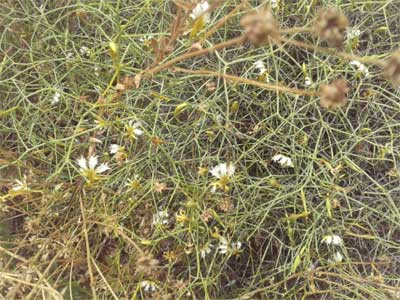 Lechenaultia divaricata
Family: Goodeniaceae
Messy looking small shrub to 60cm with leafless stems as the leaves have been reduced to small scales.
The small flowers can be white, blue or yellow and are nestled among the tangled stems.
Plants are found close to watercourses in sandy or clayey soils.
Aboriginal people use the roots of this plant to make a resinous cementing agent.
Where to find this plant at Alice Springs Desert Park
These plants are located around the Sand Country habitat near the clay pan and the aviary nearby.
Source:
Urban, A., 2004. Wildflowers and Plants of Inland Australia, Paul Fitzsimons, Alice Springs
Latz, P., 1995. Bushfires and Bushtucker, IAD Press, Alice Springs