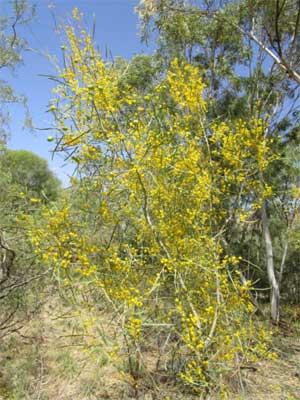 Acacia murrayana
Family: Fabaceae
Bushy shrub to small tree which can reach 4m in height. Branches and main stem are covered by a white powdery bloom.
Foliage has a bluish-grey appearance and flowers are bright yellow large round balls.
It is very fast growing and commonly occurs in groups as the plants sucker.
Where to find this plant at Alice Springs Desert Park
Very common on the greater site of the Desert Park and can be found throughout all the habitats.
Source:
Latz, P., 2004. Bushfires and Bushtucker, IAD Press, Alice Springs
Moore, P., 2005. A guide to plants of Inland Australia, Reed New Holland, Sydney