There are a number of locations throughout the Desert Park that are able to host your memorable occasion.
Corporate events
During the day stories of plants, animals and local Aboriginal culture can be seen and heard through entertaining and educational presentations, guided tours and team building exercises. At night dine amongst Central Australian wildlife, vibrant wildflower or in the foothills of the MacDonnell Ranges under a bed of stars.
Download the venue hire booking form with terms and conditions PDF (390.6 KB).
Fill in and submit the venue hire and event enquiry form.
Amphitheatre
A versatile outdoor theatre with tiered seating, surrounded by natural woodlands in the foothills of the West MacDonnell Ranges. Take your delegates on an ancient journey to modern day with an Aboriginal cultural presentation or watch in awe as Australian raptors captivate you they fly millimetres from your head with their hunting moves.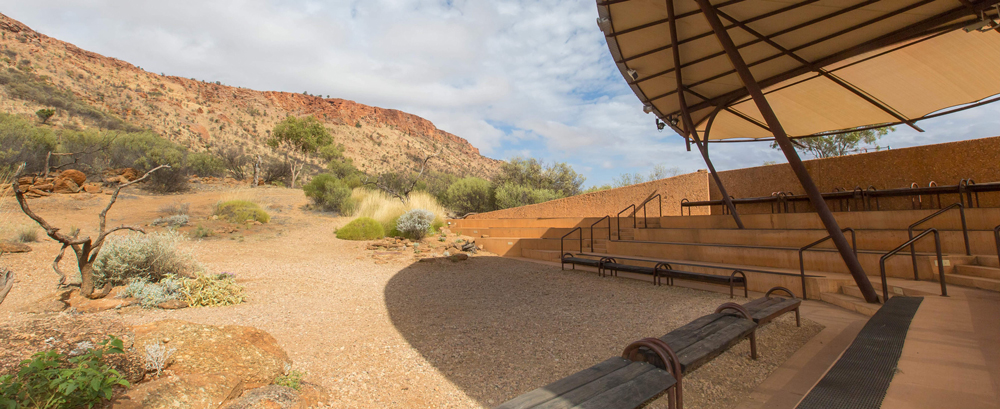 Awaye Flat
The ultimate desert story telling place. Perfect for a small exhibition or pre-dinner drinks by the camp fire where cultural stories come to life.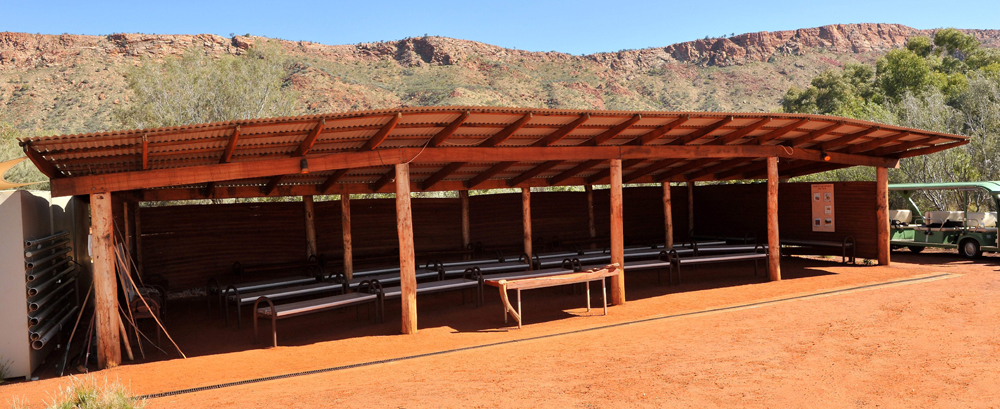 Cinema
With its 5.6 x 14 metre big screen lowered to reveal an uninterrupted view of the MacDonnell Ranges, the Cinema is the perfect for first impressions.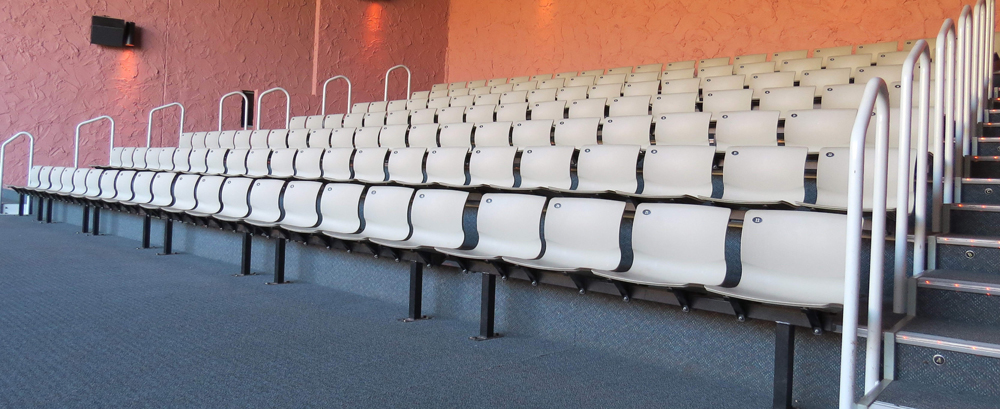 Courtyard
Sweeping views of the spectacular West MacDonnell Ranges, mixed with seasonal wildflowers and striking foliage provide an open canvas for a welcome cocktail event, casual roving barbecue or seated banquet. Take delegates on a desert discovery with an afternoon of exploring the Desert Park before returning to the Courtyard for evening celebrations.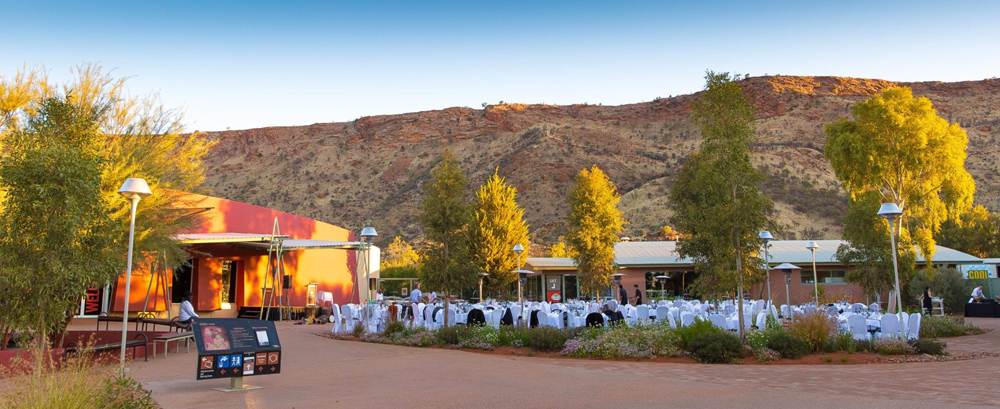 Lhere Ilthe Shelter
On the banks of a dry river bed, the Desert Rivers Shelter creates a tranquil setting to experience and discover a desert river eco-system with view of the MacDonnell Ranges and Mt Gillen.
Meeting Room
A versatile indoor space for casual meetings, training sessions or lectures located within the main Courtyard of the Desert Park.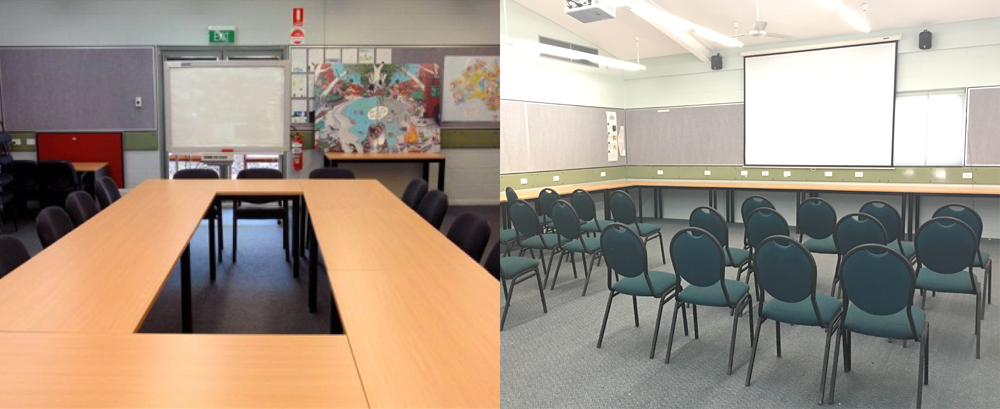 Nocturnal House
The Nocturnal House provides an exclusive opportunity to mingle with the animals from the desert in the darkness of the night either it be a cocktail or dinner party.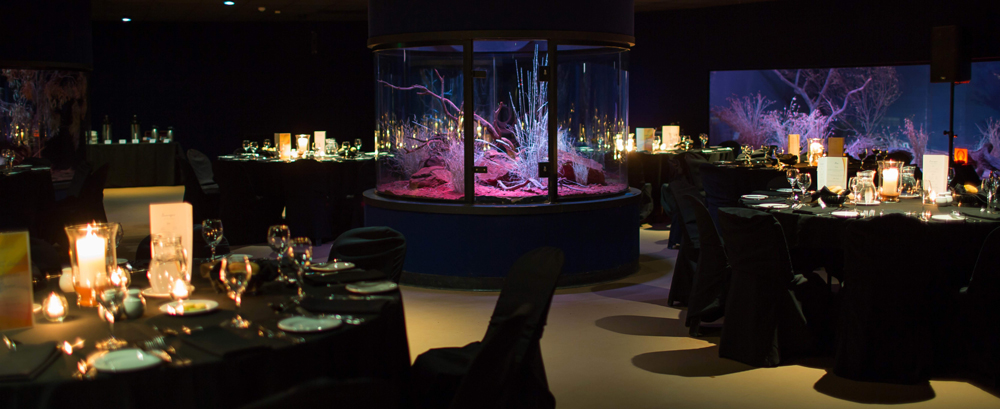 Red Mulga Event Centre
Located within the entry courtyard and surrounded by botanic gardens the Red Mulga Event Centre provides a versatile venue for small conferences, workshops or exhibitions.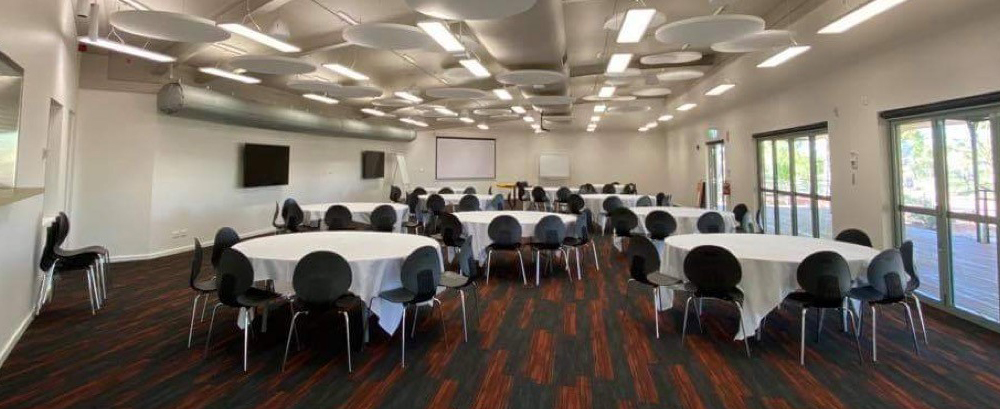 Venue seating capacities
| Location | Banquet | Cocktail | Theatre |
| --- | --- | --- | --- |
| Amphitheatre | n/a | 50 | 200 |
| Awaye Flat | 80 | 100 | 80 |
| Cinema | n/a | n/a | 137 |
| Courtyard | 800 | 600 | 1500 |
| Lhere Ilthe Shelter | 100 | 80 | 60 |
| Meeting Room | n/a | n/a | 30 |
| Nocturnal House | 180 | 200 | n/a |
| Red Mulga Event Centre | 100 | 150 | 100 |
To contact our Event Coordinator and discuss your event fill in and submit the venue hire and event enquiry form.
Please note all services and venues are subject to availability at the time of confirmation of your booking. Terms and conditions must be signed and returned before bookings are confirmed.