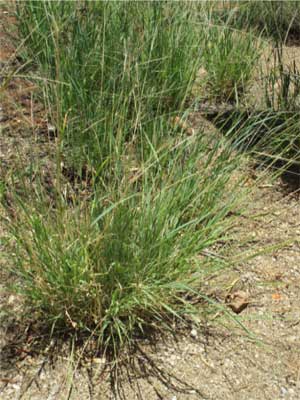 Enteropogon ramosus
Family: Poaceae
Hardy perennial grass which grows to 1m tall. It has blue-green leaves which dry and curl at the base. The long seed head resemble a windmill and appear through the warmer months.
Usually found growing on the edges of watercourses.
A good option for the home garden. Like many local grasses it responds well to being pruned to ground level over summer.
Local Aboriginal people used the strong stems of this grass to make a hook used for extracting witchetty grubs from tree trunks and roots.
Where to find this plant at Alice Springs Desert Park
There is a good display of this grass in the Desert Rivers habitat. It can also be found in the Woodland habitat.
Source:
Forth, F., & Vinter, A., 2007. Native Plants for Central Australian Gardens, Greening Australian (NT) Ltd, Alice Springs
Latz, P., 1996. Bushfires and Bushtucker, IAD Press, Alice Springs