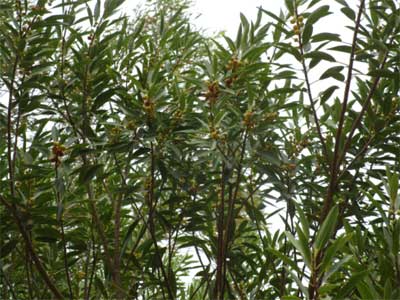 Ficus brachypoda
Family: Moraceae
Spreading large shrub growing to 4m in height. The leaves are thick, leathery, glossy and dark green.
Round edible fruit appear throughout the year (often after rainfall). They change from yellow to reddish-brown when ripe.
The fruit was an important food source for most groups of Aboriginal people in Central Australia. They were either harvested fresh from the plant or allowed to fall and collected when dry. The dried fruit were ground into a paste.
Often found growing on rocky outcrops or near rock faces, usually in gorges and other sheltered areas.
Makes are great container plant in the home garden. Rock figs prefer a shaded position where they can be protected from intense heat and frost.
Where to find this plant at Alice Springs Desert Park
There are a few large plants outside the main building at the exit to Desert Rivers.
Source:
Forth, F. & Vinter, A., 2007. Native Plants for Central Australian Gardens, Greening Australia (NT) Ltd, Alice Springs
Latz, P., 1996. Bushfires and Bushtucker, IAD Press, Alice Springs
Moore, P., 2005. A Guide to Plants of Inland Australia, Reed New Holland, Sydney
http://bie.ala.org.au/species/urn:lsid:biodiversity.org.au:apni.taxon:289498