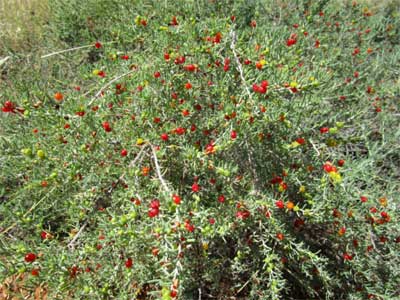 Enchylaena tomentosa
Family: Amaranthaceae
Spreading shrub growing up to 70cm high. The semi-succulent leaves are bluish-green and densely covered with short hairs.
The fruit is edible and about 5mm across. It changes colour from green through yellow, orange, red and finally black as it ripens.
Early explorers ate the leaves mistakenly believing they were high in vitamin C and would prevent scurvy.
This bird attracting plant is usually found growing under taller trees. A very useful plant for the home garden as it grows in many soils types and situations. It benefits from pruning after fruiting and thinning out of seedlings to prevent it taking over.
Where to find this plant at Alice Springs Desert Park
This plant grows in every habitat and is common across the park.
Source:
Latz, P., 2004. Bushfires and Bushtucker, IAD Press, Alice Springs
Moore, P., 2005. A Guide to Plants of Inland Australia, Reed New Holland, Sydney
Vinter, A., 2012. The Alice Springs Bush Regeneration Handbook, Andrew Vinter, Alice Springs
http://bie.ala.org.au/species/urn:lsid:biodiversity.org.au:apni.taxon:124434