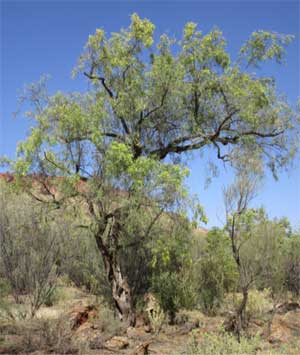 Ventilago viminalis
Family: Rhamnaceae
Interesting plant that begins life as a twining climber and eventually grows into a tree reaching up to 5m high with dark, scaly bark. It typically features several intertwining trunks when mature.
The small, pale green flowers have no petals and are followed by a fruit which has a leathery wing attached to aid in wind dispersal.
Aboriginal people used this tree for food, shelter and tool (spear) making. The stems and bark were burned to provide ash for pituri (chewing tobacco).
Grows throughout inland Australia, including New South Wales, Queensland, Northern Territory and Western Australia. Locally, they can be found in the MacDonnell Ranges at places such as Standley Chasm, Redbank Gorge, Ormiston Gorge, Serpentine Gorge and Emily Gap.
Where to find this plant at Alice Springs Desert Park
A large mature specimen can be seen in the Woodland habitat opposite the Nocturnal House. There are several plants growing around the smaller walk-through aviary in Woodland. There is also a good example in the free-range area near the pond which can be viewed on a Nocturnal Tour.
Source:
Latz, P., 2004. Bushfires and Bushtucker, IAD Press, Alice Springs
Urban, A., 2001. Wildflowers and Plants of Inland Australia, Paul Fitzsimons, Alice Springs