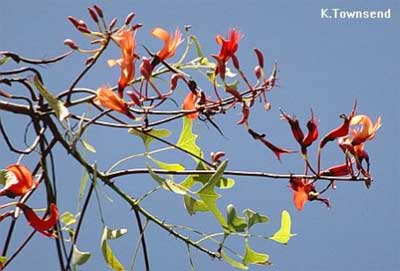 Erythrina vespertilio
Family: Fabaceae
Uncommon tree which grows 6 to 10m in height with corky bark.
Distinctive bat shaped leaves and vivid red flowers which appear on the tops of the trees usually in winter and spring when the tree is leafless.
Fruit is a pod which features bright red or yellow seeds commonly used in jewellery making.
Grows in northern Australia (Western Australia, Northern Territory and Queensland as well as the far north coast of New South Wales).
Where to find this plant at Alice Springs Desert Park
These trees are scattered throughout the park - there are good examples in flower in the walk-through aviary in Desert Rivers habitat, along the woodland exit from the Nocturnal House and near shelter J in woodland.
Source:
Moore, P., 2005. A Guide to Plants of Inland Australia, Reed New Holland, Sydney
Latz, P. 1996. Bushfires and Bushtucker, IAD Press, Alice Springs