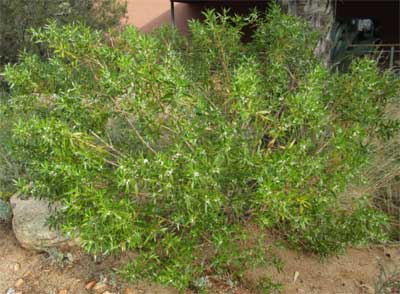 Myoporum montanum
Family: Scrophulariaceae
Rounded shrub which is usually 1 to 2m high with glossy, dark green leaves.
White, five petalled flowers with purple spots inside appear in May and June. They are followed by a round fleshy fruit which starts green and ripens to a deep pink colour. The fruit attracts birds and was eaten by Aboriginal people. Care must be taken as the fruit of other boobiallas can be poisonous.
The leaves have numerous tiny glands positioned close together, which can be seen easily when held up to the sun. These glands help to protect the plant from heat and insect attack.
A great choice for the home garden, they are resistant to drought and provide interest during the winter months with the colourful fruit.
Where to find this plant at Alice Springs Desert Park
Through the Desert Rivers habitat and in the visitor centre courtyard.
Source:
Latz, P., 2004. Bushfires and Bushtucker, IAD Press, Alice Springs
Moore, P., 2005. A Guide to Plants of Inland Australia, Reed New Holland, Sydney