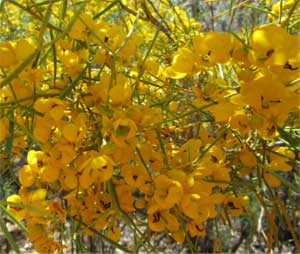 Senna artemisioides subsp. filifolia
Family: Fabaceae subfam. Caesalpinioideae
Fast growing, bushy shrub to 2m in height with bright green, narrow foliage. The flowers are yellow and appear prolifically through late winter and spring producing a very attractive display.
Popular home garden plant which can be used as a screen or feature. It tolerates drought and a variety of soil types.
Easily propagated from seed after treatment with boiling water and overnight soaking.
Where to find this plant at Alice Springs Desert Park
Very common throughout the Sand Country habitat. Can also be seen in the Desert Rivers and Woodland habitats.
Source:
Forth, F. & Vinter, A., 2007. Native Plants for Central Australian Gardens, Greening Australia (NT) Ltd., Alice Springs
Moore, P., 2005. A Guide to plants of Inland Australia, Reed New Holland, Sydney