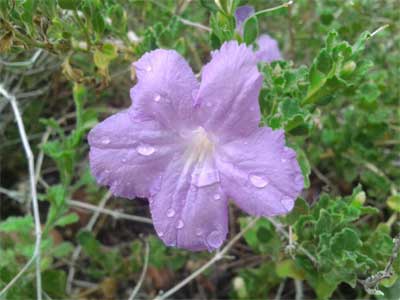 Dipteracanthus australasicus subsp. australasicus
Family: Acanthaceae
Small, pretty, spreading shrub with mauve flowers which grows to 50cm. A white flowering form is also known.
Included on the recommended plant list by the Alice Springs Town Council. It is a useful landscaping plant for home gardens.
This plant seems to prefer rocky ground, often near seasonal watercourses.
Disjunct distribution scattered across Western Australia, Northern Territory, Queensland and South Australia.
Where to find this plant at Alice Springs Desert Park
In the visitor centre courtyard, the visitor car park, around the service area.
Source:
Forth, F. & Vinter A., 2007. Native Plants for Central Australian Gardens, Greening Australia (NT) Ltd, Alice Springs
Moore, P., 2005. A Guide to Plants of Inland Australia, Reed New Holland, Sydney
http://bie.ala.org.au/species/urn:lsid:biodiversity.org.au:apni.taxon:507083