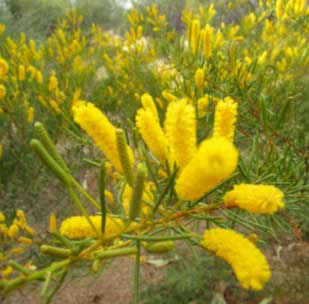 Acacia hilliana
Family: Fabaceae
Low, spreading, sticky shrub growing 0.5 to 1m high. The cylindrical flowers spikes are golden yellow and are followed by a sticky, flat, woody pod. The pods are unusual in that they stand upwards until they open by curling back from the top to release the seeds.
Scientifically named after Gerald Hill, an entomologist and zoologist who collected plants in the Northern Territory in the early 1900s. The common name describes the spreading saucer shape that the bushes often attain with age.
Found in rocky and gravelly soil, on hills, often with spinifex and sometimes along roadsides, on red sandplains and low dunes. They are quite common near Wauchope, Northern Territory (south of Tennant Creek).
Where to find this plant at Alice Springs Desert Park
This beautiful shrub is at the rear of the entry building opposite the shade sails.
Source:
Moore, P., 2005. A Guide to Plants of Inland Australia, Reed New Holland, Sydney
Purdie, J., Materne, C & Bubb, A., A field guide to Plants of the Barkly Region
http://bie.ala.org.au/species/urn:lsid:biodiversity.org.au:apni.taxon:257514