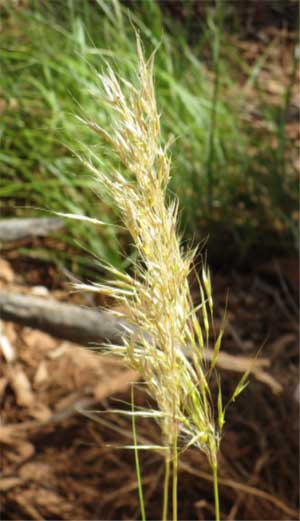 Chrysopogon fallax
Family: Poaceae
Attractive grass with bright green foliage which stays low to the ground. The flower and seed heads rise above to 1.2m.
Prefers to grow in areas which undergo flooding such as creek banks, flood plains and swampy areas.
Grows well after good summer rains. Very useful soil stabilising plant due to its well developed, mat like root structure.
Common across northern Australia, it can be seen locally at the Ilparpa claypans.
Where to find this plant at Alice Springs Desert Park
Look out for this beautiful grass in the Desert Rivers habitat.
Source:
Allan, C. & Wilson, D., 2006. Central Australian Grass Guide
Jessop, J. (ed), 1981. Flora of Central Australia, A. H. & A. W. Reed Pty Ltd, Sydney
http://ausgrass2.myspecies.info/content/chrysopogon-fallax