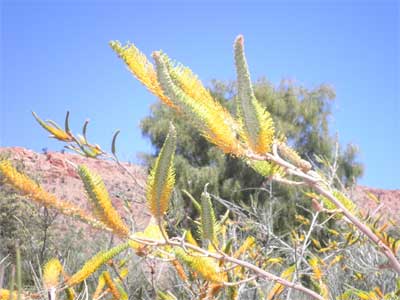 Grevillea eriostachya
Family: Proteaceae
Shrub to 3m tall with beautiful golden flowers which appear during late winter and early spring - especially after good rain.
Species name eriostachya refers to the woolly flower spikes.
Prefer red sand dunes.
Range includes south-west Northern Territory, northwest South Australia, the Pilbara and central Western Australia coast.
Flowers produce delicious nectar which attracts birds and is enjoyed by Aboriginal people.
Where to find this plant at Alice Springs Desert Park
These plants are located in the Sand Country habitat next to the first aviary.