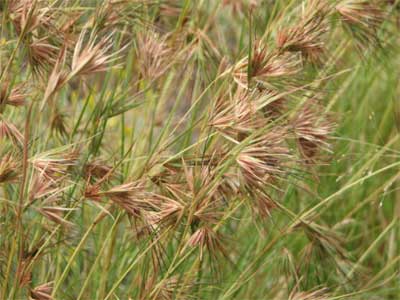 Themeda triandra
Family: Poaceae
Pretty tussock grass growing to 1m in height with attractive seed heads which appear throughout the warmer months.
Generally found in wet areas such as watercourses and drainage depressions but can also grow on fertile stony or rocky hills.
One of Australia's most widespread grass species, it is adapted to environments as diverse as the arid interior to the alps.
Excellent garden plant, it thrives after being cut back during the warmer months and has a high tolerance to drought.
Where to find this plant at Alice Springs Desert Park
Good examples can be found in the Desert Rivers and Woodland habitats and in the visitor centre courtyard.
Source:
Allan, C. & Wilson, D., 2006. Central Australian Grass Guide