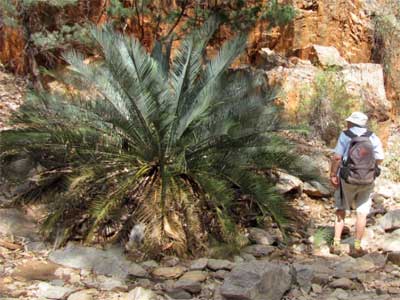 Macrozamia macdonnellii
Family: Zamiaceae
Described as a palm-like cycad, this plant grows to 2m high and the same in width. It features long leaves and an egg-shaped fruit which has toxic properties. For this reason, the seed was not utilised as a food source by Arrernte people.
Its range is restricted to small scattered populations throughout the gorges of the MacDonnell Ranges where it can be found in rocky stream beds, lower slopes and high up on sheltered rock ledges.
Excellent opportunities to see these rare plants are at Standley Chasm, Finke Gorge NP (Palm Valley) and Watarrka NP (Kings Canyon).
Where to find this plant at Alice Springs Desert Park
These plants are only found in the visitor centre courtyard.
Source:
Latz, P., 2004. Bushfires and Bushtucker, IAD Press, Alice Springs
Moore, P., 2005. A Guide to Plants of Inland Australia, Reed New Holland, Sydney