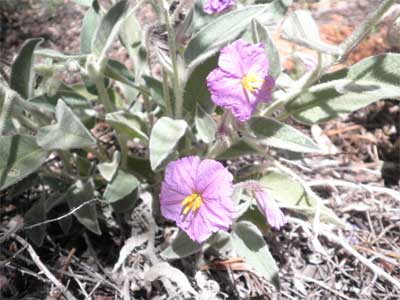 Solanum ellipticum
Family: Solanaceae
Spreading, low shrub growing to 25cm high and can reach 100cm across.
The leaves are covered in fine hairs which gives them a pale bluish-green appearance. The new growth often has a purple tinge.
The flowers are purple with bright yellow stamens in the centre. They are followed by a round fleshy fruit which starts off green with purple stripes and then turns to yellow when ripe. The fruit of this species is edible but care should be taken as other Solanum species have poisonous or unpalatable fruit.
An excellent choice for the home garden, although it is sensitive to frost.
Where to find this plant at Alice Springs Desert Park
This plant is located in the Desert Rivers and Woodland habitats.
Source:
Latz, P., 2004. Bushfires and Bushtucker, IAD Press, Alice Springs
Moore, P., 2005. A Guide to Plants of Inland Australia, Reed New Holland, Sydney