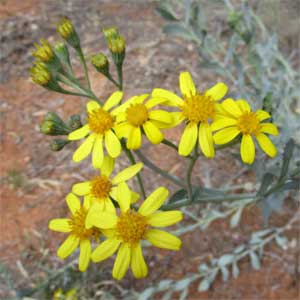 Senecio magnificus
Family: Asteraceae
Soft wooded shrub which can grow to 1.5m tall bearing bright yellow flowers with deeper yellow centres, particularly after rain.
They can be found in a variety of situations such as alluvial flats, sandy creeklines, drainage depressions and disturbed areas.
The plant has bluish-green foliage which, in the home garden, is best pruned back to ground level after flowering. This will produce a healthier plant the following season. Plants can last for several years in good conditions.
Where to find this plant at Alice Springs Desert Park
These plants are best displayed through the Desert Rivers habitat.
Source:
Moore, P., 2005. A Guide to Plants of Inland Australia, Reed New Holland, Sydney
Vinter, A., 2012. The Alice Springs Bush Regeneration Handbook