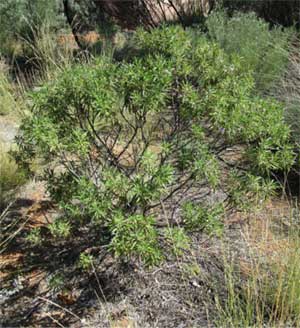 Eremophila freelingii
Family: Scrophulariaceae
Rounded shrub growing to 1m tall with lilac flowers. In good conditions or under cultivation, this makes a very attractive specimen.
Often dominates hillsides which are very dry and rocky such as throughout the East and West MacDonnell Ranges and at Watarrka.
This plant is quite difficult to propagate and various methods have been trialled leading to an increased strike rate of cuttings in the nursery.
Useful plant for Aboriginal people with the leaves being used in various ways to treat complaints such as headache, chest pain and colds. The flowers could also be used for decorative purposes during ceremonies.
Where to find this plant at Alice Springs Desert Park
Plants are looking quite pretty at the moment in the Desert Rivers and Woodland habitats.
Source:
Latz, P., 2004. Bushfires and Bushtucker, IAD Press, Alice Springs
Moore, P., 2005. A Guide to Plants of Inland Australia, Reed New Holland, Sydney
http://bie.ala.org.au/species/EREMOPHILA+FREELINGII