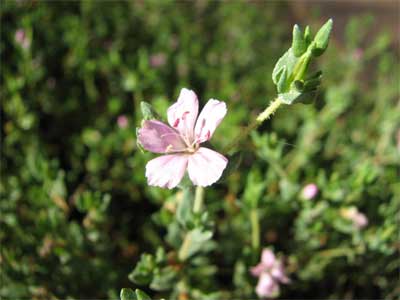 Frankenia cordata
Family: Frankeniaceae
Small, spreading, rounded shrub to 30cm, featuring pretty five petalled pink flowers.
Leaves are heart shaped giving the plant its specific name.
Excellent home garden plant, it is easily propagated by cuttings.
The plant is widespread in the central and western deserts (Western Australia, South Australia and Northern Territory).
Where to find this plant at Alice Springs Desert Park
Good examples can be seen near the salt pan and throughout the Sand Country habitat and in the visitor centre courtyard.
Source:
Forth, F. & Vinter, A., 2007. Native Plants for Central Australian Gardens, Greening Australia (NT) Ltd, Alice Springs
Moore, P., 2005. A guide to plants of Inland Australia, Reed New Holland, Sydney