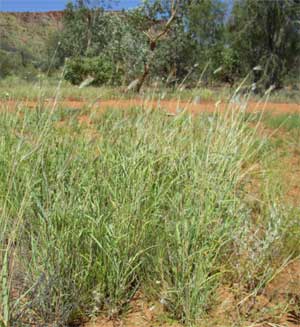 Dichanthium sericeum
Family: Poaceae
Perennial grass growing 60 to 80cm in height. The leaves are blue-green and soft. The seedhead is made up of two to seven bluish spikes covered in long, fine, silvery-white hairs. These are quite silky and soft, giving this grass its common name. It has long, dark awns (bristly hair-like appendages) which, next to the silvery hairs, produce a very striking appearance.
This grass is commonly found in floodout areas, ephemeral clay pans and along drainage depressions. It is often associated with Eucalypts such as coolibah, river red gum and ghost gums and Acacias such as mulga and gidgee.
The plant flowers best after summer rains and usually flowers from February to May.
Where to find this plant at Alice Springs Desert Park
This grass is found in the Desert Rivers and Woodland habitats.
Source:
Lazarides, M., 1970. The Grasses of Central Australia, Cathay Press, Hong Kong
Vinter, A., 2012. The Alice Springs Bush Regeneration Handbook, Andrew Vinter, Alice Springs
http://bie.ala.org.au/species/urn:lsid:biodiversity.org.au:apni.taxon:416499