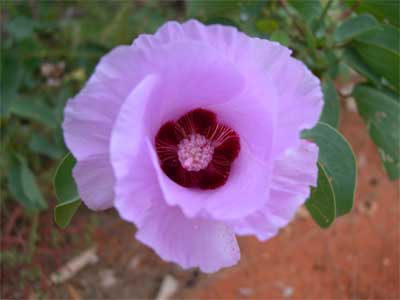 Gossypium sturtianum
Family: Malvaceae
Shrub to 2m in height with beautiful five petalled pale mauve-pink to lilac flowers with a dark red spot at the base. A white petalled variety is also known.
This flower is the floral emblem of the Northern Territory and a stylised version is featured on the Territory flag. It is named after the explorer Charles Sturt.
Grows in sandy or gravelly soils near streams and in rocky situations such as gorges and gullies - often looks much more attractive in cultivation
Grows readily from seed with a hot water soak pre-treatment.
Where to find this plant at Alice Springs Desert Park
This beautiful plant is located in the Desert Rivers habitat and the visitor centre courtyard.
Source:
Moore, P., 2005. A Guide to Plants of Inland Australia, Reed New Holland, Sydney