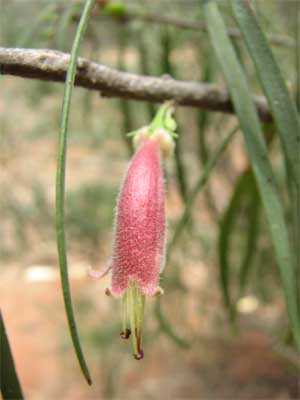 Eremophila longifolia
Family: Scrophulariaceae
Upright shrub to small tree growing to 4m in height with a drooping habit. It bears red flowers followed by a small, round, soft green fruit. The flowers bear a small drop of sweet nectar at the base.
The plant suckers from the roots often forming dense groves.
Very important ceremonial plant for most Central Australian Aboriginal groups. Uses include smoking rituals for mothers and their newborn babies and small sprigs used in headbands and armbands for certain men's rites.
A distinctly marked caterpillar which feeds on this plant is a totemic animal of Arrernte people.
Where to find this plant at Alice Springs Desert Park
Throughout the Woodland habitat and in the courtyard area.
Source:
Jessop, J. (ed), 1981. Flora of Central Australia, A. H. & A. W. Reed Pty Ltd, Sydney
Latz, P., 1996. Bushfires and Bushtucker, IAD Press, Alice Springs
Moore, P., 2005. A Guide to Plants of Inland Australia, Reed New Holland, Sydney